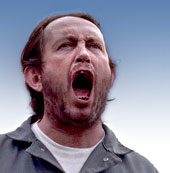 Read the latest
ranting perspectives on film and studio news from a Hollywood nemesis
recharged and once again poised to apply serious nurples and wedgies to an industry perplexed by his very existence.
BLOG >>

Times have changed.
The country is in a new Great Depression, the
real estate
market is down, and Jeff is currently on a low carb diet. Faced with reduced blood sugar and the challenge of raising his unique
independent films
above the fold, Jeff is getting ready to launch his first ever
Kickstarter
campaign to introduce some exciting and innovative new marketing ideas for his current film
Ghost Phone (Phone Calls from the Dead)
starring Melissa Ordway and Nelson Franklin. If that goes well, our next project will be a
film adaptation of Perdido, a haunting murder mystery from author Rick Collignon
, followed by an edgy new project starring Taos-based
actor, writer, director Arron Shiver
called
Everything Beautiful Is Far Away
, based on the
Richard Lange
short story by the same title from his
Dead Boys
compilation. So
stay in touch
and help us stand up to the Hollywood machine by
supporting the efforts of indy filmmakers
like Jeff around the world.
CURRENT
GHOST PHONE
, Starring Melissa Ordway and Nelson Franklin. Everyday guy loses his beautiful fianceé (Amanda) in a car accident and then undergoes a psych evaluation to determine if he can stand trial for murder, while continuing to receive communications from Amanda and many other deceased people, including his alleged murder victim, over the cell phone Amanda left behind.
DEV
PERDIDO
, Starring
Arron Shiver
. With signed letter of intent from
Sandra Echeverria
. Based on a novel by local author Rick Collignon. An old story of a hanged girl is unearthed and aggitates an otherwise sleepy nothern New Mexico mountain town. Based on a true story.
DEV
EVERYTHING BEAUTIFUL IS FAR AWAY
, Starring Arron Shiver. Directed and Written by Jeff Jackson and Arron Shiver. Based on a short story by Richard Lange. A damaged 20-something newsstand attendant becomes obsessed with an attractive, manipulative teenage girl and self-destructs.
1997
POSTAL WORKER (GOING POSTAL)
,
Feature. 35mm.
Starring Brad Garrett, Grace Cavanaugh, Richard Portnow, Paul Williams, Rob Roy Fitzgerald. Postal worker Oren Starks (Brad Garrett) is scheduled to go over the edge, and does. Film enjoyed an 18 month run on HBO.
94 min
1995
POSTAL WORKER (SHORT)
,
Short. 35mm.
Starring Teck Murdock. Precursor to full-length feature. Brutally dark and twisted comedy short in which the shooting of an educational film called "The Journey of a Letter" is violently interrupted by a postal worker who has had enough.
5 min
1994
DEATH & TAXES
,
Documentary. 35mm.
Researched over nearly 10 years, the film chronicles the life story of North Dakota farmer Gordon Kahl and the unlikely battle with the IRS which lead to his violent and mysterious death in Arkansas in 1983. Top-rated documentary at the 1994 Melbourne Film Festival.
113 min
1986
VENICE BEACH CONFIDENTIAL
,
Documentary. Video.
Jeff immerses himself in the decadent and raucously creative city of sin during his early years as a filmmaker. Featuring reknown street musician Ted Hawkins.
45 min
1985
ODDBALL,
Experimental. S-8.
Inventory of a life on the edge of insanity.
58 min
1984
THIS IS THE END,
Documentary. Video.
How far will an actor go to land the "Big" part in Hollywood?
17 min
1983
CATTLEGATE: TOO MANY DRUNK COWS
,
Documentary. Video.
Explores the cover-up of the Michigan PBB disaster, one of the largest chemical contaminations in history.
24 min
1976
GOOD COUNTRY PEOPLE
,
Fictional. 16mm.
A celebrated film adaptation of the classic Flannery O'Connor short story. Supported by a grant from the
American Film Institute
.
32 min
1973
THE PIGS VS. THE FREAKS
,
Documentary. 16mm.
Local East Lansing Michigan hippies play football against the local police in the third annual Bull Bowl.
28 min
1972
FROM DUSK,
Experimental. 16mm.
A youth wanders into the woods seeking the ideal woman and comes out an old man.
24 min
1970
THE 1969 WAR MORATORIUM,
Documentary. S-8.
An Anarchist's view of the Viet Nam War Protests in Washington, D.C.
20 min