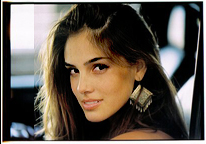 In addition to coveting
Breaking Bad
actor
Aaron Paul
, currently starring in the blockbuster series
Breaking Bad
,
Taos Land & Film Company
is proud to announce the intent of Latin-American superstar
Sandra Echeverria
in the role of Will's fiery girlfriend Lisa. Sandra is a smart and savvy actress with an explosive personality that is perfectly suited for this dynamic role.
In
part 1 of this exclusive interview
, author Rick Collignon takes a ride with director Jeff Jackson out to the John Dunn bridge as a setting to discuss a girl who was found hanging from a remote bridge in the Questa area many years ago. Rick describes how he learned about the event and how it became the inspiration for his classic novel,
Perdido
, currently being adapted to the screen by Jackson and the Taos Land & Film Company. [
Rick Collignon Interview: Part 2
]
Rick Collignon
is widely admired for the humility and affection with which he renders his characters and the accuracy with which he depicts the unique people, climate, and customs of north central New Mexico. We strongly recommend that you immerse yourself in
Perdido
ahead of the film and follow along with other works by Rick. He truly is a local treasure.