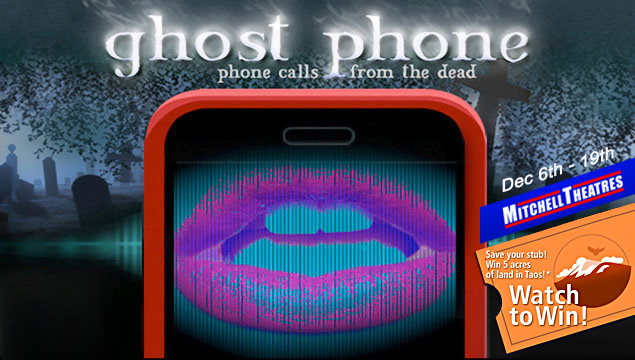 The contest is simple: buy a
Ghost Phone
movie ticket at a participating theater, grab some popcorn and a good seat, and enjoy the movie. THEN, HOLD ON TO YOUR TICKET STUBS! On December 23, 2013, we're going to draw a winner. We'll announce the winning ticket number on our website and in the media. Read the
Watch to Win Terms & Conditions PDF
for details.
Nelson Franklin
is a young and rising actor making a name for himself in HBO's
Veep
, and in the new hit CBS series,
THE MILLERS
.
Katie Lowes
enters her third season starring in ABC's hit series,
SCANDAL
.
Melissa Ordway
has appeared in
TED
and has quite the television resumé. And
Alex Kingston
is well-known to E.R. and
Dr. Who
fans the world over. Here's where we break from tradition--we're willing to deed five acres of land in Taos, New Mexico to one lucky viewer of GHOST PHONE. We've developed land in Taos for years and use the money to fund independent film projects. This has made us one of the biggest supporters of the arts in Taos, a community known for beautiful art and land. There you go. That's our biggest star. The crazy thing is, we're only getting started. We've realized that it's almost as much work to distribute one film as it is fifty films. To that end, we've resurrected the
Taos Talking Pictures Festival
with three goals:
To re-establish the festival locally.
To establish an online viral film festival.
To establish a unique distribution cooperative for independent filmmakers.
Our belief is that a film festival should serve both the filmmakers and the community hosting it. We therefore invite filmmakers to join us in:
Unique crowdfunding opportunities.
Traditional theatrical releases.
Worldwide television premieres on HBO, IFC, Sundance, FX, and more.
Video on demand distribution on Netflix, Hulu, iTunes, Amazon, and more.
We want this to serve as a model for cooperative success. Each filmmaker acquires an ownership stake in the company. Through everyone's combined social media networks, we build and expand an audience for cutting-edge independent features, documentaries, and serials. We've given away land before, and we'll continue to. Watch a movie and
win some land
, or join our film cooperative. Either way, you, too, can become a part of the Taos Filmmakers's Colony, with neighbors like
Chris Eyre
and
David Riker
! Muchas Gracias!
Ghost Phone Movie & Phone App

The Phone App — To help drive home the themes of the film and provide our audience with an occasional refreshing cosmic intervention from the unknown, we're planning the development of a unique phone app (view app demo) titled "Ghost Phone: Phone Calls from the Dead", through which you'll receive one or two unexpected communications from the great beyond each day, offering mysterious information or sage advice that could alter the course of your short term plans in some positive way. Maybe it will even provide some new perspectives on the direction and meaning of your life!

She's dead

but still committed to the relationship.

Check this page, the film blog, follow us on Twitter, visit the Facebook page, or for the ultimate in staying dialed-in, join our mailing list for the latest developments in the project.

All Rights Available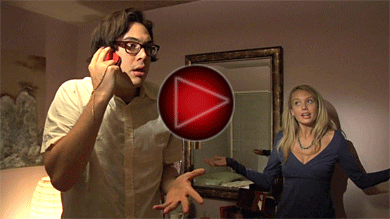 Click to watch the official
Ghost Phone
movie trailer! Watch
Ghost Phone
at these participating theaters from December 6th through 19th 2013, for a chance to win 5 acres of land in beautiful Taos County New Mexico!
New Mexico
Colorado
Kansas
Oklahoma
Missouri
Nobody believes William Pierce. Not the cops, not the shrinks, not even his own mother. And why should they? You see, Will has a direct hotline to the afterworld: his dead fiancée's cell phone. Here's the problem: the dead only talk to him. In this dark romantic comedy, Will straddles this world and the next, jumping through hurdles to appease those who have crossed over, in an attempt to exonerate himself from a murder charge, prove his sanity, and find closure with his fiancée. Yes, she's dead, but she'll go to any lengths to make their relationship work, including asking Will to do the unthinkable: join her on the other side.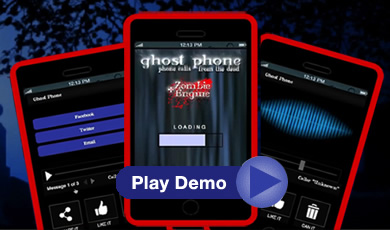 Click to view the app demo for
Ghost Phone: Phone Calls from the Dead
!